PXIe (PCI eXtensions for Instrumentation) is a modular instrumentation platform that combines strong CompactPCI features with industry-standard PCI bus technology to provide capabilities for power, communication, and cooling. The platform can be adapted and changed to meet even the most complex instrumentation needs. With 58 W of power and cooling in each slot, the PXIe-1095 chassis allows for increased power and cooling in FPGA workloads.
More About the PXIe-1095
The PXIe-1095 is a high-performance PXI chassis from National Instruments, that features 8 GB/s of bandwidth for each PXI Express slot. The chassis has a modular structural design that guarantees a high level of maintainability and is useful for a variety of applications. The PXIe-1095 is characterized by state-of-the-art synchronization and timing features, as well as increased slot cooling capabilities that allow for 58 watts of power per slot. With a 1200 watt power supply, the PXIe-1095 chassis can handle even high-power applications. Features of the chassis include an 18-slot PXIe backplane and low-jitter internal reference clocks (both 10 and 100 MHz). The PXIe-1095 is also able to synchronize across multiple chassis via a PXI Express System Timing Slot.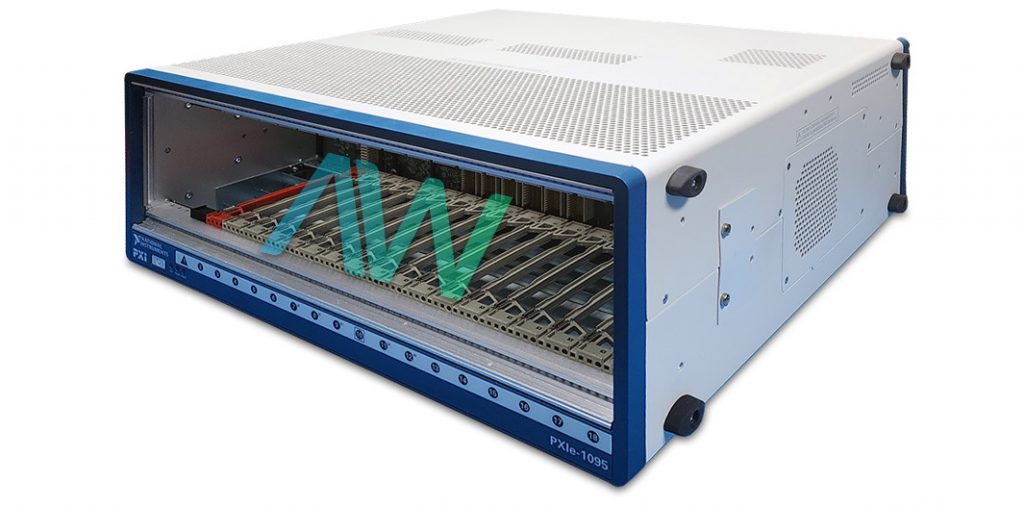 The backplane of the PXIe-1095 chassis offers the versatility to connect and operate with a variety of CompactPCI and PXI hardware, including PXIe compatible products, 2-Link and Type-2 products compatible with the CompactPCI Express, and more. The daisy-chained local bus of the PXIe-1095 backplane links each peripheral slot to the peripheral slots on both the left and right. If looking for a version of the PXIe-1095 that comes with a timing and synchronization option, it can be found with the part number 785971-01. Additionally, there are multiple options for accessories and additional equipment that can be used in conjunction with the PXIe-1095 chassis. These include:
– Rack-mount kits for both the front and rear of the chassis.
– Replacement fan assemblies for both the side and module fans (part number: 786324-01).
– Slot blockers / filler panels to help keep the chassis cool (part number: 786342-01)
– A replacement 1200 watt power supply (part number: 786300-01).
Due to the upgraded timing and synchronization capabilities of the PXIe-1095, the chassis enables remote voltage monitoring and suppressing via a 15-pin female connector located on the back panel. It also features a single USB 3.0 Type A port located on the chassis rear. The built-in fans of the PXIe-1095 chassis offer two distinct cooling profiles and two main fan modes. The cooling profiles are either 38 W or 58 W / 83 W, depending on temperature range and maximum module power dissipation. In regards to fan modes, the chassis offers the choice between auto (determined by the temperature of the air intaken by the chassis), and high (for maximum cooling).
The PXIe-1095 chassis is also able to be calibrated. While the recommended calibration period for individual parts varies, most parts should be calibrated either annually or every two years, to ensure accuracy. If you need to have the PXIe-1095 calibrated, Apex Waves provides you with options. We offer high-quality NIST accredited calibrations through a professional 3rd party, and these have an average turnaround time of 1 to 2 weeks. When you order the PXIe-1095 with us, you can also request basic, unaccredited in-house calibration that will calibrate the part to manufacturer specifications directly prior to being shipped. Send us an email at sales@apexwaves.com or give us a call at (919) 809-5227 to learn more!