How it Works
Fill out the quick and convenient form below with your name, email address, phone number, and individual part information. Have a long list of parts? Save time by uploading a spreadsheet (.csv or .xlsx files) to the "applicable documents" field below.
Once we receive your information, we will send you an offer within 24 hours! Whether your goal is to sell for cash, get credit for new equipment, or a trade-in deal- we will work out the best solution to suit your individual needs.
We cover the costs of shipping! We'll send you all of the packing materials and labels you need to make the process of turning your unwanted NI equipment into cash a breeze. In certain cases, we are able to come to you! We will travel to your location to haul your equipment ourselves and process payment in person.
Frequently Asked Questions
Will Apex Waves buy my surplus hardware from a manufacturer other than National Instruments/NI?
Yes! Apex Waves will buy your used, new, or secondhand test equipment from a wide variety of manufacturers in addition to National Instruments. Looking to sell ADLINK, Agilent/Keysight, Ametek, Teradyne, another manufacturer? Submit your unneeded parts to us using the form above and our knowledgeable acquisition team will get back in touch with you as soon as possible.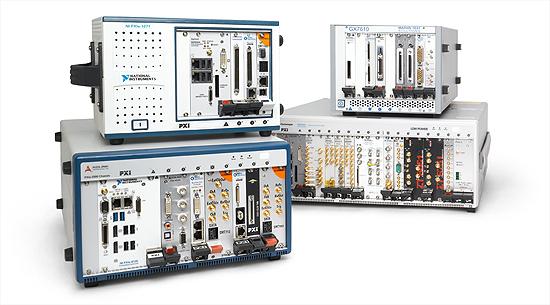 What National Instruments equipment will Apex Waves accept?
We buy NI! We accept all modules and accessories from all NI series, including; PXI, PXIe, PCI, PCIe, cRIO, cDAQ Modules, Oscilloscopes, Signal Analyzers, Spectrum Analyzers, Network Analyzers, Counters, Power Supplies, DC Electronic Loads, AC Power Sources, Signal Generators, VXI, VME, and more!
Can I get credit for my defective National Instruments equipment?
Yes you can. We have excellent offers on Core Exchanges for units!
Dust off your storage room and drop us a line! Clean off your bench and clear up the calibration lab. We can offer cash, credit, core exchange, and trade-in deals. We want to buy good working units, like-new units, and even failed units we can repair!
Do I need to reset my equipment before selling?
There is no need to reset your test equipment before submitting for an offer, we will do it for you! Each unit we receive is securely reset to it's original factory settings. This factory reset protects your data and prepares the equipment for repair or re-use.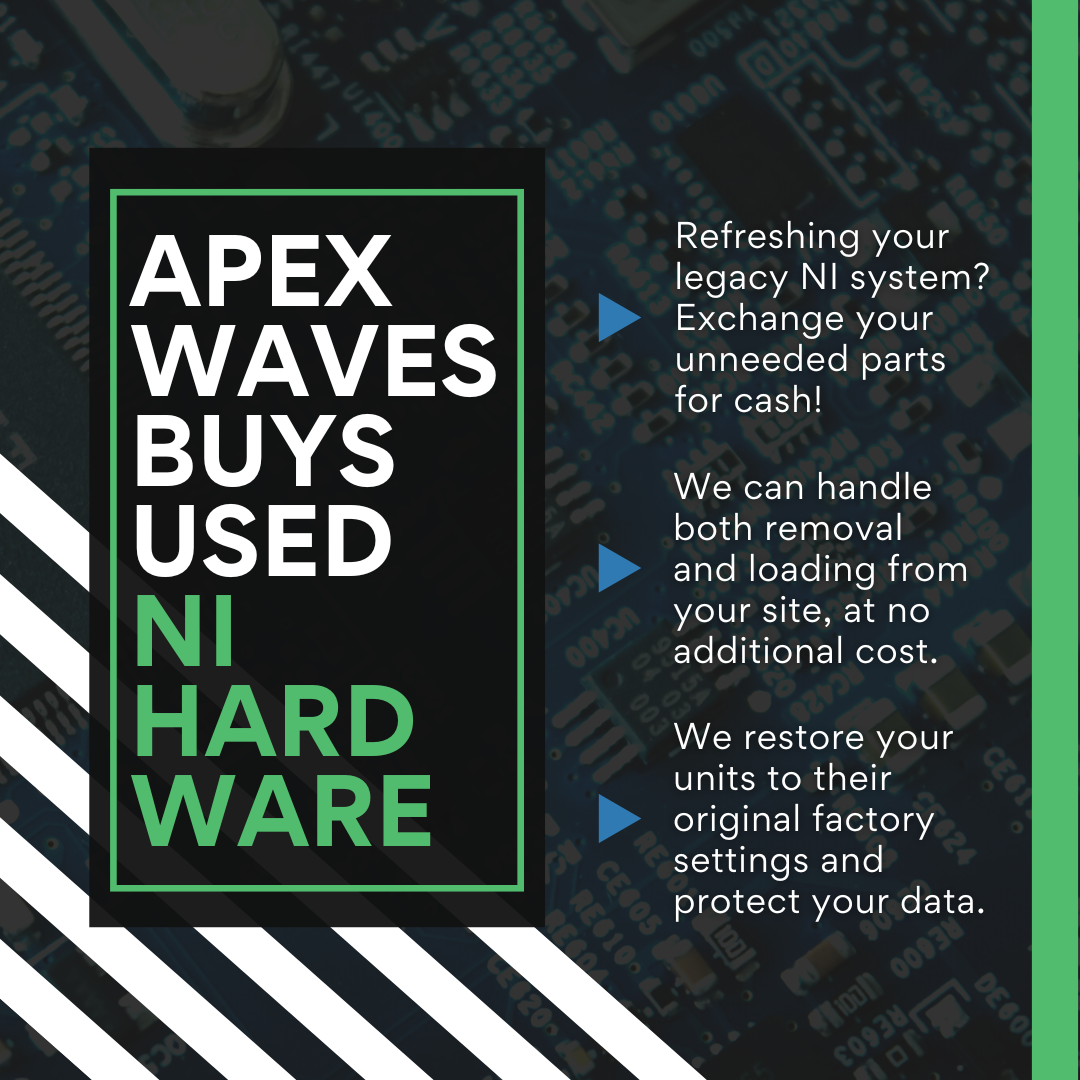 How do I know when it's time to sell my National Instruments equipment?
Testing is a crucial first step for any big project- but the scope and scale of your testing might necessitate a substantial investment in labor and test tools. Projects involving test equipment often use specialized test rigs, hardware, software, and testing frameworks. However, once the project is completed, not all of the equipment is able to be used in other projects. This unnecessary test equipment often ends up gathering dust- stored in a room or forgotten in a closet.
Maybe you are part of a team that is updating your legacy NI hardware to the newest models and giving your system a complete refresh. Where will all of these obsolete test equipment modules end up?
The answer is simple. Sell them to Apex Waves! Simply send us a list of your surplus equipment and we'll contact you with our offer.