Companies in almost every industry are being transformed by artificial intelligence, and autonomous machines are paving the way for new business models and services. This is especially evident in the work from tech company NVIDIA®, which has been a driving force for innovation in the fields of robotics, creative design, autonomous vehicles, and artificial intelligence since 1993. The NVIDIA Jetson™ series of modules are advanced AI embedded systems that are impacting industries across the globe.
What Makes Jetson Modules Unique?
Each individual Jetson module is a System on Module (SOM), meaning that it is a board-level circuit that unifies a system function into a single module- each one featuring CPU, GPU, high-speed connection, and power management. These features allow for increased flexibility and scalability. The same Jetson software platform supports all of the modules, enabling businesses to design once and deploy across the board- shortening the time to market.
Product series include:
The Jetson Orin™ (AGX, NX, Nano): an artificial intelligence computer made for applications such as autonomous machines that are energy efficient.
The Jetson Xavier™ (AGX, NX): a small but mighty computer that incorporates acceleration hardware and is made for use with autonomous machines.
The Jetson TX2™: an embedded module family that is ideal for applications such as medical technology and industrial robotics.
The Jetson Nano™: the smallest and most basic artificial intelligence computer offered, capable of running parallel neural networks.
What is "Edge AI", and why is it important?
Edge AI is the term used to describe what happens when edge computing, artificial intelligence, and IoT devices are used together effectively. The term "edge computing" dates back to the 1990s, and describes when content delivery networks were created to deploy content from servers that were close to users. "Edge AI" is a term used to describe the deployment of AI software on hardware in close proximity to where the user/data is located. This differs from cloud computing or data center-based solutions, which process data centrally.
Maturing neural networks, computational infrastructure advancements, and the widespread adoption of IoT devices have all contributed to recent implementations of edge AI. When used in conjunction with NVIDIA Jetson modules, edge AI is revolutionizing how many prominent industries approach technology.
AI Applications of NVIDIA Jetson Modules
In Transportation
The companies EGK and AVerMedia are working together to use the NVIDIA Jetson Nano to manage their commercial vehicle fleet. The Nano module powers AVerMedia's AI Box PC, which is used to transmit data to a remote site, alerting personnel to potential safety concerns and if maintenance is required.The combination of the AI Box and the Jetson Nano allows the companies to efficiently track and maintain the vehicles, resulting in better health and safety for the drivers. This is made possible through the Nano's ability to encode video-audio, decode, and intelligently analyze video.
In Manufacturing
Artificial intelligence company Landing AI utilizes the Jetson Xavier NX to power LandingLens, an end-to-end MLOps platform that assists manufacturers in developing, refining, and implementing AI-powered solutions for visual quality inspections on a product line. The Jetson Xavier NX, allows companies to rapidly and simply design, deploy, and scale their industrial AI solutions. It also increases quality control visibility by allowing users to monitor and manage the effectiveness of all AI projects.
In Retail
The Jetson platform is also helping companies in the retail sector. Working together, the companies Simbe Robotics and Leopard Imaging created a robust imaging solution on the NVIDIA Jetson platform that enables a robot named Tally to gather on-shelf inventory data in real-time. This has reportedly increased sales margins, increased worker productivity, and maximized operational efficiency. The Jetson platform allows Tally to both process shelf data in real time on the edge and utilize cloud resources.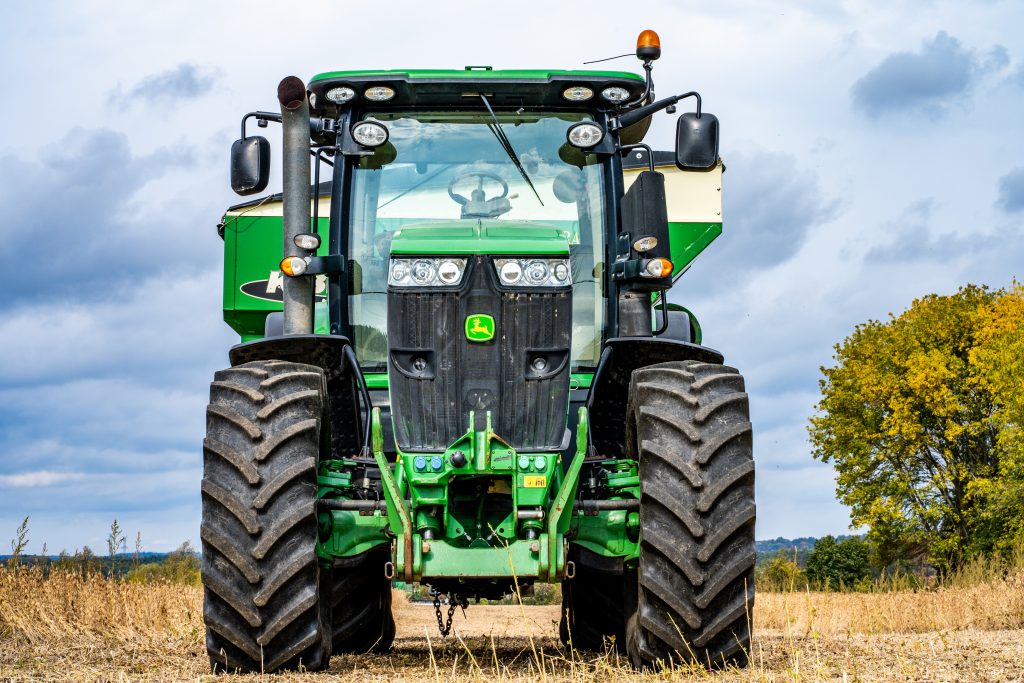 In Agriculture
When you think of autonomous vehicles, does a tractor come to mind? This is a reality for John Deere tractors thanks to the computer vision capabilities of the NVIDIA Jetson TX2. This technology utilizes a neural network for autonomous driving and object identification while classifying each pixel in around 100 milliseconds. Multiple cameras enable 360 degree obstacle detection as well as distance calculation. This cutting edge technology is essential for addressing the wide range of farming variables such as less accessible space and manpower. Two NVIDIA Jetson GPUs are used for rapid and precise picture categorization at the edge.
In Healthcare
The robust computing architecture of the NVIDIA Jetson AGX Xavier uses a small amount of power to do complex calculations. This proved helpful in the creation of a portable brain scanner for EMVision. This device uses microwave electromagnetic radiation for a new imaging technique that quickly produces high-quality pictures of the brain. A neural net is added to the images to improve diagnostic decision support. This brain scanner is portable, making it easy to use in locations where a MRI or CT scan are not accessible. With the help of the Jetson AGX Xavier, EMVision is able to address neurological conditions that require immediate treatment.
What Comes Next?
According to their website, around 30,000 companies are currently using NVIDIA's AI technologies. With thousands of applications for edge computing on a global scale, artificial intelligence is increasing both innovation and competitiveness. Only time will tell how the applications of modules such as the Jetson series will change the way our most valuable industries function!
Additional Resources: