PXI is a robust platform that is powered by software and PCI electrical-bus characteristics with CompactPCI's modular, Eurocard design. For over 2 decades, this high-performance and inexpensive deployment platform has been useful for a wide variety of applications across an expansive range of industries- including the military, aerospace, and industrial industries. The capabilities of PXI in test, measurement, control, and data acquisition applications set the industry standard- but how did it get to this point?

Brief History of the PXI System
The history of the PXI system actually begins with the Peripheral Component Interconnect (PCI) system. PCI is a local computer bus that was first introduced in 1992 and was used to connect hardware components to computers. The PCI bus offers the same features as a processor bus, but in a format that is standardized and independent of the native bus of any specific processor. Industrial computers use the CompactPCI computer bus interface, which combines a Eurocard-style connector with PCI signals and protocols. Boards for the CompactPCI are often connected through a passive backplane, and come in the conventional sizes of 3U or 6U.
Eventually, engineers agreed that it would be far simpler to introduce the assets and openness of the VXI platform to PC technology than it would be to convert everything to use it, not vice versa. The need arose for a fast bus interface, a driver model that was easy to develop, and a platform with a more ruggedized modular form- which led to the inception of the PCI eXtensions for Instrumentation (PXI) platform. This platform would introduce PC tech to test systems, allowing for improved flexibility and higher performance while also requiring less space and money.
Several products that were already in development at National Instruments supported CompactPCI, which made it easier to create and add additional instrumentation features. With the technology that was going to be built upon already in place, the concept for the PXI was introduced during a sales conference in January 1997.
In order to establish the technical specifications for this new test platform, NI put together a team of specialists (including the president of National Instruments at the time, Dr. James Truchard), who worked diligently to come up with a written standard in just 8 months. Due to their efforts, both the standard and functional PXI units were ready to be introduced during the "NIWeek" press conference of August 1997.
At the same conference, NI announced the PXI System Alliance (PXISA). This association was founded because NI established PXI as an open standard- which not only encouraged other manufacturers to supply their own PXI equipment, but also provided users with a much wider range of possibilities. In 2002, the sales for the PXI officially overtook the sales of the VXI bus.
Interestingly, one of the main concerns when the PXI was first developed was how small and low cost it was, fearing that would impact its ability to perform high end instrumentation. However, a variety of vendors made a large number of modules and chassis, and today they are some of the most advanced RF products on the market.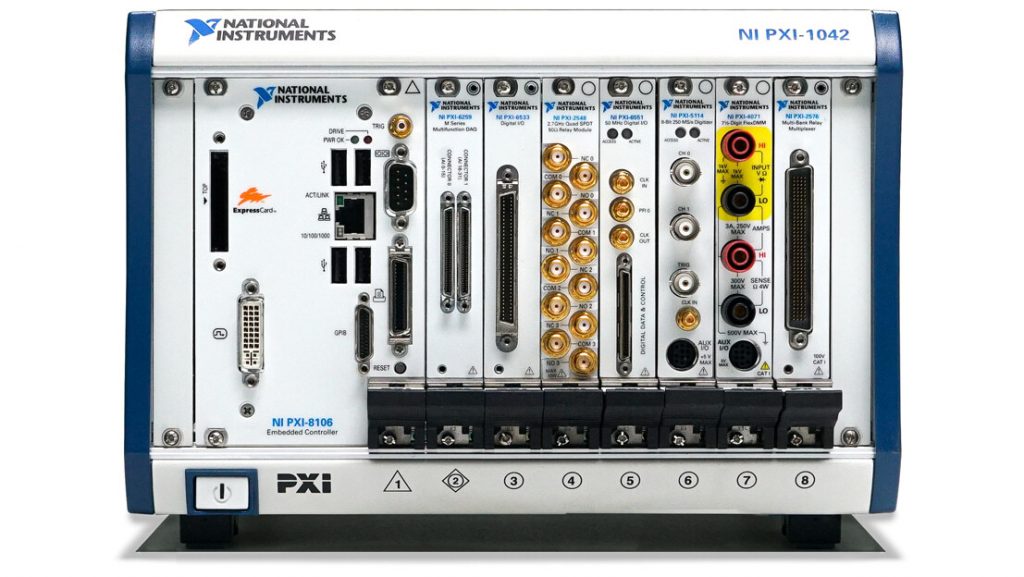 Important Hardware of the PXI
A PXI System is comprised of three vital hardware components:
The Chassis. The chassis serves as the foundation of a PXI system, analogous to the shell of a desktop PC. A PXI Chassis accommodates several instrumentation modules in the same enclosure and supplies the system with a bus for communication as well as power and cooling capabilities. It combines tough CompactPCI modular packaging, essential timing and synchronization characteristics, with PCI / PCIe technology. These chassis come in sizes ranging from four to 18 slots to accommodate multiple applications, whether the need is for a portable, tabletop, rack-mount, or embedded system.
The Controller. The leftmost slot on a PXI Chassis, as designated by the official hardware specification documentation, is the system controller slot. The options for PXI controllers range from embedded controllers (with options for either a Microsoft or Real Time OS) to remote modules that enable a PXI system to be controlled from an outside computer / server / desktop (etc.).
Peripheral Modules. Peripheral modules are where the PXI system becomes truly customizable. Since it is an open industry standard, more than 70 distinct instrument suppliers provide approximately 1,500 different devices- with over 600 unique modules available from NI alone.
Additional Information: 
http://www.pxisa.org/Default.aspx
https://www.ni.com/en-us/shop/pxi.html
https://www.youtube.com/watch?v=bACFASXrKDE