The National Instruments PXI range offers adaptable, affordable test and measurement equipment that has multiple advantages for companies involved with testing in the heavy machinery industry.
When working in the heavy machinery industry, test equipment must be able to provide real-time information and allow engineers to predict problems before they occur. National Instruments provides a comprehensive range of test and DAQ systems that meet the extremely demanding conditions that heavy machinery can endure.
Using the National Instruments PXI range, engineers can not only monitor, but design closed-loop feedback systems to make adjustments automatically, using National Instruments LabVIEW and InsightCM software applications.
The PXI system provides heavy machinery engineers a range of benefits including:
Cost savings – The testing process and test equipment are can be expensive early costs in any project, but by using the National Instruments PXI system teams can adapt the system either through software or by easily replacing modules. This flexibility allows current equipment to be retained and easily updated for new testing criteria.
Time-saving – Rigorous, detailed testing is time heavy and there are no shortcuts. However, using the PXI modules in conjunction with application software such as LabVIEW and InsightCM, automated testing can be quickly designed and built. LabVIEW's graphical user interface simplifies the design and launching of test systems, while InsightCM provides real-time monitoring. Using these systems in a monitoring system allows for early detection of potential problems giving engineers the opportunity to fix a problem before it causes expensive downtime.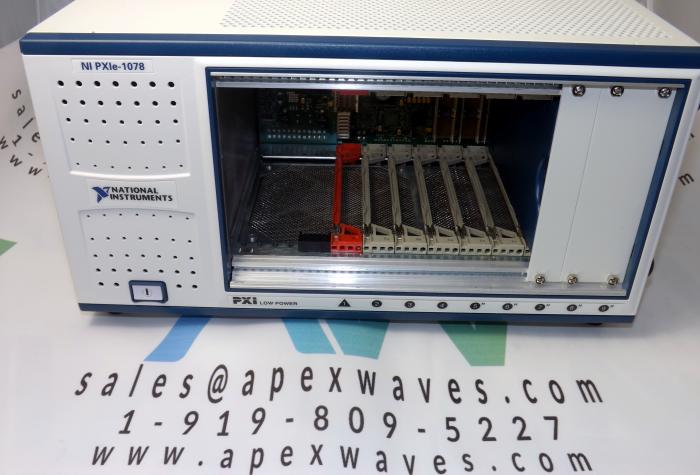 Remote monitoring – Using the LabVIEW application and the National Instruments PXI-1033 chassis, which was designed for remote control applications, a remote data transfer of up to 110 MB/s can be achieved. For easy transportation, a carrying handle can be fitted to this model and the chassis accepts up to 5 modules to allow for a range of automated testing situations.
Portability – The PXI platform of testing modules are designed to be easily transported. PXI Chassis come in a range of sizes from 4 to 18 slots, providing just the amount of test capability required. PXI Chassis can be daisy-chained if more module slots are required, keeping chassis size and weight to a minimum. With a built-in PXI controller module, the PXI system can operate without an attached PC and just a screen is required.
Durability – The interface between PXI modules providing data transfer and timing is contained within the PXI chassis on the backplane to prevent damage and allow for easy swapping of modules. The PXIe-1085 chassis power supply can be replaced in the field if required, without removing the modules, making replacement quick and easy. These features improve system up-time and ensure your testing environment is continually active.