Wireless technology is now second nature to most people. Only a few years ago, wireless technology involved systems that were relatively slow with low bandwidth, but these systems have now developed into 100Mb/s broadband streaming and 5G in the pipeline for mobile devices.
The changing bands for 5G, expected to use the mmWave spectrum in the future, increased speeds, and the intention of using RF spectrum up to 86 GHz for future 5G deployments requires testing facilities to adapt and innovate.
Beamforming will be a central testing issue for 5G systems. Test systems will need to analyze each individual beam and conduct over-the-air measurements to confirm radio performance and ensure the best possible service for the consumer. Initially, 5G will continue to use Long Term Evolution (LTE) and a version of the orthogonal frequency-division multiplexing (OFDM) waveform for both downlink and uplink, while mobile devices will use both 4G and 5G networks. Test labs for 5G devices will, therefore, need to be easily adaptable as the technology progresses through the cycle of new releases.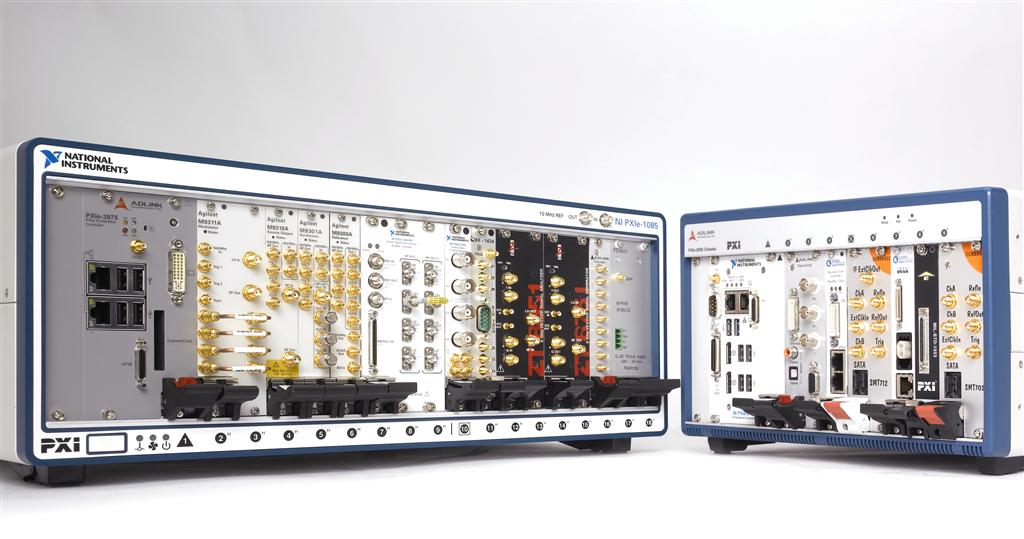 National Instruments PXI modular platform is a perfect choice. At Apex Waves we specialize in supplying, maintaining, and repairing test equipment from National Instruments. The strength of the PXI platform is the modular design, allowing a wide mix of DAQ and test instruments to be housed in a single chassis. The addition of a PXI Controller module gives the ability to build an autonomous test bench, complete with a CPU, hard drive, RAM, and interfaces. PXI Data Storage Modules provide additional storage for test systems, with modules such as the NI PXIe-8267 that offers up to 4 TB of storage and 5 GB/s transfer speeds.
The National Instruments PXI Vector Signal Transceivers combine an FPGA programmable signal generator with a signal analyzer in one module. They are suitable for testing wireless and mobile communications and can be easily expanded using multiple modules.
The NI PXIe-5646 is suitable for current 5G testing, with a frequency range from 65 MHz to 6 GHz. As 5G moves to higher frequencies, additional modules can easily be added to the PXI chassis to increase testing cover. With an onboard Xilinx Virtex-6 LX240T FPGA, the module can be easily programmed using the National Instruments LabVIEW software. Additional features include a VHDCI digital I/O connector, 512 MB of onboard DRAM, and both analog-to-digital and digital-to-analog converters.