Together, Microsoft's Xbox and Xbox 360 formed a legendary cornerstone in the gaming world. While production of the platform was discontinued in 2016, ending an 11-year run, the gaming system remains in popular use today. In fact, out of more than 22 million game consoles sold, estimates state that well over half remain in regular use, thanks to the continuation of Xbox Live.
While tech aficionados routinely expect to see National Instruments' products used in high-tech aerospace, defense, automation, and other industries, many may be surprised to discover that NI software and instruments were crucial components that helped to rocket the Xbox and Xbox 360 to such popularity. Specifically, NI solutions were used for production testing and measurement operations on wired and wireless controllers, as well as other USB interface peripherals, such as steering wheels and dance pads.

Image Credit: Pixabay
NI Gets into the Game
In the original Microsoft Xbox gaming system, functional testing protocols were developed using NI LabVIEW and PXI modular instruments. This testing system measured levels of communication between the gaming console and controllers, including voltage levels, draw of current, and response times. With the introduction of the Xbox 360 came new demands for testing USB interface peripherals.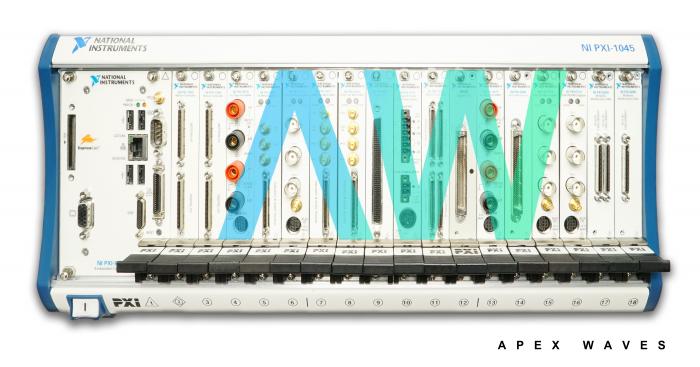 This required similar controller tests, but with the ability to capture high-performance signals from the wireless controllers to the console. Without such high-performing signal connections, the user experience would suffer, especially with newer, first-person perspective action games. Again, Microsoft used NI modular test instruments that were easily compatible with Microsoft Windows XP and Microsoft SQL Servers.
Microsoft engineers built their own test system in their design validation lab for the Xbox 360 controller before deploying it into production. D.J. Mathias, Lead Development Test Engineer for the Xbox accessories group, said, "Using LabVIEW, we created more than 100 tests, implemented Ethernet communication, developed programmatic interaction with ActiveX controls and incorporated a data storage interface to our Microsoft SQL Server database."
Microsoft's NI testing solution using LabVIEW and PXI components tests every function of the controllers, including signal levels, audio, push button functionality, and joystick control. As part of continued quality control testing, the system uses LabVIEW to transmit over 100 test measurements from each completed controller in production to a Microsoft SQL Server for continued analysis and future research.
NI Enables a Superior Gaming Experience
With first-person digitalized gaming, experience is everything. Games and platforms that perform sluggishly or experience other poor user interactions are quickly discarded for better options. In order to stay competitive in the huge gaming market, Microsoft Xbox 360 had to raise the level of user experience for newer and more complicated games. NI functional testing solutions helped them to succeed.
Microsoft representatives expressed enthusiastic satisfaction with the NI-based testing solutions they were able to create, citing a "50% reduction in overall test time" and a "100% increase in test throughput per test station." Such astounding results enabled Microsoft to make high volumes of quality game platforms available to consumers, resulting in massive sales and overwhelming customer satisfaction.
While the Xbox 360 may be out of active production, NI's legacy lives on in the more than 11 million platforms that are estimated to still be in use. High-level testing enabled Microsoft to produce superior products that continue to stand up under years of use.
More information about National Instruments and Microsoft Xbox 360 can be found in this case study on the NI website.