Apex Waves' main focus is obsolete and mature test equipment, especially items created by National Instruments. Obsolescence is an issue when equipment has long pre-service development times and this is very relevant when talking about avionics systems and military systems in particular.
Commercial off-the-shelf (COTS) components provide great capability and flexibility, but flip the coin and the downside is the speed at which today's new equipment becomes out of date and is replaced. Military aircraft are expected to be in service for a while and operational requirements will drive equipment upgrades rather than equipment age.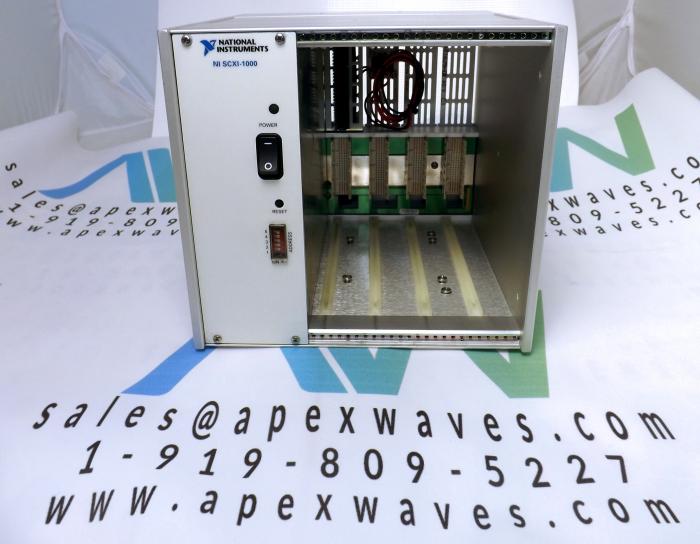 A good example is the Fairchild Republic A-10 Thunderbolt aircraft. It was brought into service in 1977. This aircraft is projected to stay in service until around 2040, despite the last aircraft rolling off the production line in 1984. Maintaining test facilities over such a long period is a challenge that Apex Waves can assist with by supplying and repairing obsolete DAQ test modules.
As mentioned, COTS test equipment has taken over from custom-built bespoke systems, but those systems and modules are still replaced or upgraded on a regular basis. For example, the National Instruments SCXI-1000 Chassis is perfect for building a small test rig, but is now classified as obsolete. If your company has built a test system using the chassis, then you may prefer to maintain that system instead of replacing it with the new items offered by National Instruments.
The NI SCXI-1000 is a four slot, low noise chassis that accepts proprietary SCXI modules built by National Instruments. Although only accommodating four slots, up to eight SCXI-1000 chassis can be linked to add additional functionality if required. Using the NI-DAQ driver software, the chassis can be easily configured. Modules are auto detected and can carry out a self-test of the configuration. One thing to note is that the SCXI-1000 does not allow for hot swapping of modules. If a module is removed or inserted with power connected, it's most likely that the chassis fuse will blow. For correct operation, it is essential to have the NI-SWITCH and NI-DAQ 7 drivers installed.
National Instruments has two recommended replacement chassis for the NI SCXI-1000. The first is the NI PXIe-1071 which is also a four slot chassis, but uses the standard PCIe interface instead of the proprietor SCXI. This will require new PCIe modules to replace the old SCXI items, but provides a far wider range and with added functionality and support. The NI PXIe-1071 will accept PXI, PXI Express, CompactPCI and CompactPCI Express modules for maximum availability of components.
The second replacement chassis advised by National Instruments is the cDAQ-9174 which also has four slots, but only accepts NI C Series modules. One useful feature of the cDAQ-9174 is the USB 2.0 connection, allowing easy connection of the chassis to monitoring and control equipment.
Apex Waves specializes in mature, obsolete, and discontinued test equipment. We can supply and repair DAQ modules and chassis from a range of suppliers, including National Instruments, and can also provide accessories and leads.