Semiconductor technology is a fast-paced business, with constant advances in design and production. This poses a huge problem for testing, along with the continual cost of updating test equipment and systems.
Keeping testing regimes up to standard with continuously changing technology requires updated software, testing procedures, documentation, and hardware. All of this adds not only to the cost of design and production but also the time-to-market, pushing the final product price ever higher. In a challenging, price-driven market, this is a significant disadvantage.
National Instruments has developed a platform-based approach, constructed around their PXI modules that offers a high-performance cost-optimized solution. The National Instruments PXI products are an industry-leading test and measurement solution, providing improved test times, but crucially maintaining measurement and performance standards.
With increasing semiconductor complexity, the use of fixed-functionality test solutions in the lab has become inefficient and expensive. Dedicated test equipment takes up valuable lab space and is difficult to integrate, even with high-speed Ethernet solutions. National Instruments PXI systems provide a platform of modules and software that can quickly and easily be configured for the testing environment required. Combine this with National Instruments LabVIEW engineering software and your semiconductor test lab is ready for any challenge.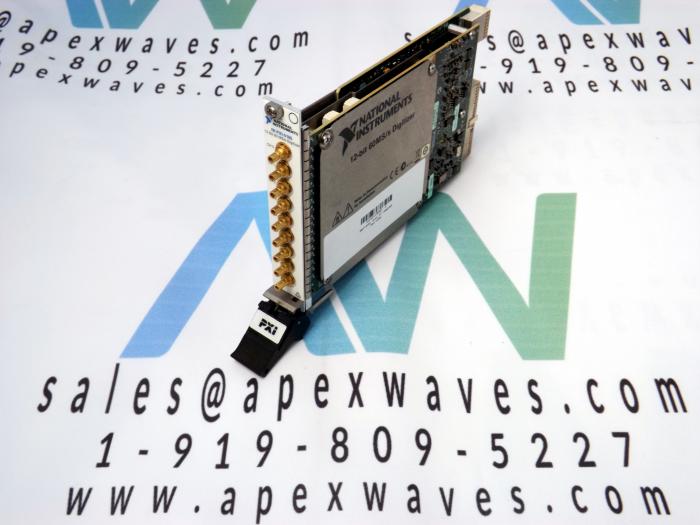 The system starts with a PXI chassis, the smallest of which holds 4 modules, while the larger versions such as the NI PXIe-1095 can hold 18 modules. Its high bandwidth backplane offers transfer speeds of up to 24 GB/s and each slot provides up to 82 W of power and cooling giving a high-performance test and measuring capability. Along with hot-swappable module slots, this chassis also offers two hot-swappable power supplies for added reliability. When more modules or digital channels are required, PXI chassis can be linked using the NI MXI-Express technology to allow expansion.
PXI Digital Instruments from National Instruments such as the NI PXIe-6591 can create high-speed digital waveforms and is designed to perform functional testing of semiconductors. This module is configured for engineers validating and testing serial protocols using multi-gigabit FPGA transceivers that can be programmed via the LabVIEW FPGA module. Featuring 8 bidirectional digital channels and providing a maximum data rate of 12.5 Gbits/s, this module is perfect for your semiconductor test lab.
Using the PXIe-6556 Digital Waveform Generator/Analyzer, test engineers can simulate digital interface patterns using the 24 digital channels and on-board high-resolution clock. Two versions of the module are available, one with 8 MB memory per channel and the other with 64 MB of memory per channel, depending on your requirements. National Instruments offers two suggested cables for use with the PXIe-6556, the shielded single-ended SHC68-C68-D4 and an unshielded single-ended CB-2162 Digital I/O Accessory for a connector block.
Apex Waves specializes in the purchase, sale, repair, and calibration of obsolete and end-of-life test and measuring equipment, particularly focusing on National Instruments products. We have a full range of new, used, and refurbished National Instruments PXI modules available perfect for your semiconductor testing requirements. Contact us today for advice on the best tailor-made solution.