Smart devices keep getting smarter, thanks to increased use of software. This proliferation of software has created new demands for how integrated circuits (ICs) are designed and manufactured. New designs and manufacturing processes demand new types and methods of testing. Regardless of the smart device or its composition, the demands for businesses remain the same: ensure reliability, deliver products to market quickly, and remain cost-competitive.
This typically means tighter demands and budgets, shorter design and testing windows, and a need for speed in production and quality testing. National Instruments leads the way in providing testing and measurement solutions with the Semiconductor Test System (STS). NI STS provides smarter test solutions that are highly mobile and can be used in many configurations from the lab to various production locations.
The Versatility of NI STS
STS utilizes the industry-standard PXI platform to provide a portable testing unit that is equally ready for the lab or numerous production lines. The self-contained unit is totally scalable for differing test challenges or tighter budget constraints. STS is available in three sizes:
T1 accommodates one 18-slot PXI chassis
T2 accommodates two 18-slot PXI chassis
T4 accommodates four 18-slot PXI chassis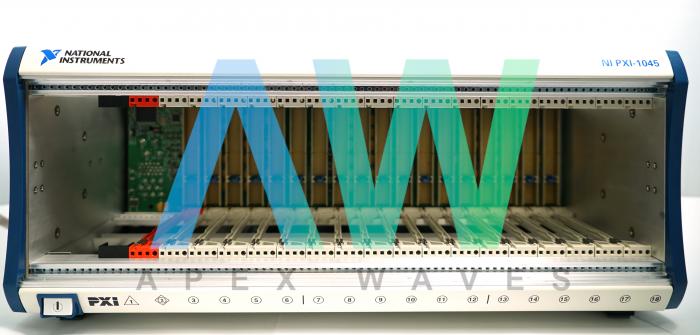 Each system variation allows for common infrastructure support interfacing between interchangeable device boards and units. This is especially helpful when lab and production equipment feature different pin counts. STS can scale and interface with common software and hardware solutions to simplify data correlation and reduce costs.
The STS framework provides the flexibility to expand and evolve with new test capabilities and equipment to meet growing smart device development demands. Augment or upgrade components with the latest PXI instrumentation or controllers for growing test and measurement demands. Your company's investment in STS will prove cost-effective as you expand it to use with multiple generations of evolving technology and changing demands.
STS for Mixed-Signal Devices
Mixed-signal devices, or integrated circuits, contain both analog and digital circuits on the same chip. These are typically used to convert analog signals to digital signals, allowing processing by more compact and advanced digital systems.
Examples of mixed signal-devices include linear devices, power management instruments, data converters, and fingerprint sensors. The flexible STS test platform provides all that is needed to test various mixed-signal devices from a variety of sources and manufacturers.
In this test case from NI, Integrated Device Technology used the STS to test a wide variety of device types and discovered that they could sustain a high level test throughput and complete scalability that would meet any anticipated performance requirements.
STS for MEMS Devices
MEMS are Micro-Electro-Mechanical Systems. These tiny devices are the product of modern microfabrication technologies and can measure less than a single micron. Their complexity is truly boggling, and they are used extensively in sophisticated moving mechanics that use integrated electronic systems.
In this test case from NI, Analog Devices, Inc., used STS to create a MEMS testing solution that reduced capital equipment costs by 11 times, reduced the testing footprint by 15 times, reduced weight by 66 times, and reduced power consumption during testing by 16 times.
For more information about how NI STS can meet the measurement and test needs of your industry or company, or to speak with an STS Expert from NI, visit the NI STS information area of their website.