As rogue elements continually improve countermeasures for modern navigation and communication systems, engineers need instrumentation and software solutions that are flexible enough to allow for the design and testing of evolving threats and complex signals.
The miracle of radio communications faces a growing number of interfering elements, threatening vital communications between military units and commands. Clear and secure signals are essential to successful defense measures. National Instruments designed and created the PXI family of components and software for testing communication systems, including RF hardware, transponders, and environment simulation.
This makes NI's PXI systems ideal for detecting and monitoring rogue interference signals and transmitters in wireless communication environments. PXI software tools and FPGAs allow users to program systems to fit a variety of situations for analyzing and processing communication signals quickly and without errors.
Here are a few examples of how the National Instruments PXI platform is helping defense-related navigation and communication systems stay safe, secure, and operational.
Record and Playback Testing
NI's PXI platform provides the flexibility and programmable components for record and playback testing on DF systems for spectrum surveillance, passive and over-the-horizon radar, and varying antenna measurements. These systems typically use intermediate frequency (IF) signals.
IF is a frequency that operates in a 5 MHz – 2 GHz range at 800 MHz of bandwidth. A PXI Express controller houses an onboard FPGA that processes incoming signals and transfers the data to other devices for testing and evaluation. Theoretically, data streaming rates of up to 4 GB per second can be achieved.
In the white paper referenced, multiple PXI wideband IF digitizers were used to synchronize input from up to 12 DF antennas to solve challenges with streaming and recording RF signals.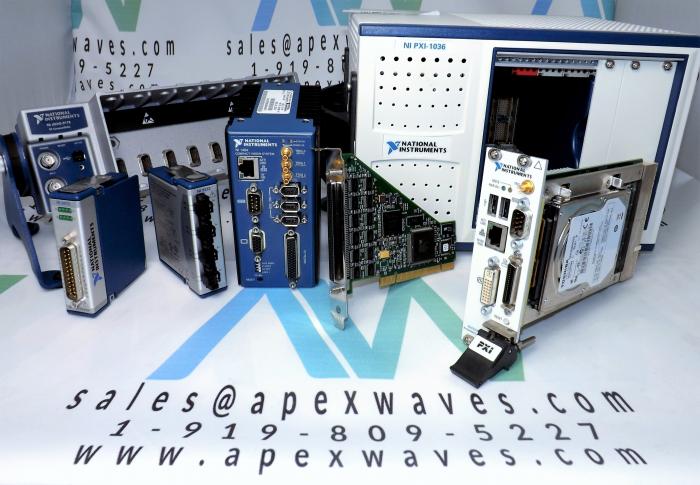 Simulation Testing
In this case study, NI PXI products were used to create a scalable and flexible automated XPDR Test System for Becker Avionics. The flexibility and scalability allowed engineers to simulate different testing scenarios for real airborne environments, including:
Secondary surveillance radar (SSR)
Transponders (XPDR)
Up to 14 pieces of PXI hardware were used to build this XPDR airborne signals test system. PXI components included a chassis, PXI Express Controller, multiple PXI Express VSGs and VSAs, a PXI CAN device, and PXI Express data acquisition, control, and monitoring products.
Multiple stages of transponder research and development were achieved simply by exchanging off-the-shelf NI PXI hardware. As a result, consecutive stages of data flow and software-defined processing were allowed. Becker Avionics will now use the new XPDR Test System to test XPDRs during the manufacturing process.
Field Testing
Global Navigation Satellite Systems (GNSS) are continually being tested to ensure accuracy and reliability. To do this, GNSS simulators are used to create sample scenarios so that engineers can determine how a GNSS performs. Even different GNSS constellations can be simulated, including the US Department of Defense's Global Positioning System (GPS), Galileo in Europe, Russia's GLONASS constellation, and even the Chinese-based BeiDou/COMPASS satellite system.
In 2012, French-based M3 Systems combined their experience in the GNSS field with the flexible, modular, high-performance reputation of the National Instruments PXI platform to begin the STELLA-NGC project, a new solution for GNSS simulation testing.
STELLA-NGC is a GNSS simulator that is completely configurable to any satellite constellation. It possesses many innovative features that allow multifrequency approaches, even while managing a number of satellite constellation simulations. The main components provided by NI include:
PXIe-5644R vector signal transceiver (VST) FPGA and RF capabilities
PXIe-8135 controller for CPU power
NI LabVIEW system design software
This new GNSS constellation simulator has become an essential piece of test equipment. It is highly customizable, which enables it to perform as a complete test environment for many different GNSS users.