Tektronix is a globally-recognized source of equipment for engineers, scientists, and technicians. Known for their innovative measurement technology, they have created tools like oscilloscopes that have aided in the advancement of fields like health, communication, and space science. There are new discoveries in science and technology virtually every day, so it's imminent that what used to be some of the company's greatest products are replaced with newer, upgraded models. But just because they've been replaced doesn't mean they're forgotten. Here are some of the best discontinued oscilloscopes from Tektronix.
Tektronix TDS3034C Digital Phosphor Oscilloscope
One of the great, unique things about this oscilloscope is that the sampling rate doesn't change as you turn on channels. When you're measuring an electrical signal, you can see each of them in real-time, displayed at the maximum sampling rate across all channels. It also features phosphor technology. With this technology, it turns invisible electron beams into bright waveforms right on the screen. You can find more unique features of the basic TDS3000C series oscilloscopes and learn more about how it works with this short video from the Tektronix YouTube channel.
Tektronix TBS1052B Digital Oscilloscope
This model is a great tool if you're measuring low power signals in places that are hard to reach. It features limit testing to automatically record any detection of signals on a pre-formed template. It also works well if you're trying to catch a trend over time. The TrendPlot™ feature can help you plot out the measurements as they're recorded. It's listed by Bliley Technologies as one of the most useful tools when you're working on a low budget and don't have thousands to spend on a new oscilloscope.
Tektronix MDO3104 Oscilloscope
Dubbed "the swiss army knife of electronics lab test equipment," this gem is six tools in one. This model can function as a digital oscilloscope, a spectrum analyzer, a waveform generator, a logic analyzer, a protocol analyzer, and a digital voltmeter. This single oscilloscope can take the place of a lab full of tools. Easy to use and pricey in their heyday, this o-scope is well worth having even today.
Tektronix TDS1012 Digital Storage Oscilloscope
This oscilloscope comes in a lightweight, portable package. The tool is one of the only o-scopes to offer color digital storage with 200 MHz of bandwidth and a 2 GS/s sample rate. It comes with eleven automatic measurements and the Fast Fourier Transform math function to analyze and troubleshoot problems by viewing the frequency and signal strength. For quick and easy analysis, it features OpenChoice™ solutions. With this feature, you can make an easy connection to your personal computer to document results.
Tektronix TDS2014C Analog Oscilloscope
This oscilloscope features 100 MHz with four channels for real-time sampling at 2 GS/s. It allows you to isolate specific signals through advanced trigger-rising and falling edge, pulse width, and video. Its anti-glare surface and color features make viewing waveforms easy. It also allows you to store waveform data in the machine or by USB detachable memory. Although their production is discontinued, they are still generally available.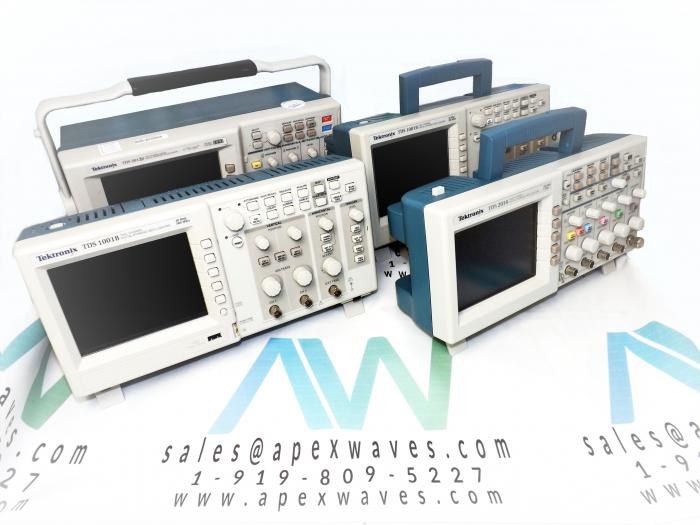 Tektronix TDS2024C Oscilloscope
This model runs in the same series as the TDS2014C but features a bit more bandwidth for the channels. It delivers stable and accurate performance. The screen delivers helpful messages and annotations and offers clean control buttons for precise operation. It also features the same USB port for detachable storage or to connect to a personal computer or printer.
Any of these six digital oscilloscopes will be a valuable contribution to your electronics lab for a variety of applications. More information about Tektronix oscilloscopes can be found on our website. Contact us for pricing for these or other types of electronic test equipment.