The manufacturer National Instruments has numerous series organized by the type of instrument, one of which is the C Series. This series is comprised of Voltage Output Modules, Universal Analog Input Modules, CAN Interface Modules, Digital Modules, Current Output Modules, Counter Input Modules, Temperature Input Modules, Current Input Modules, Digitizer Modules, Voltage and Current Input Modules, Sound and Vibration Input Modules, Strain/Bridge Input Modules, LIN Interface Modules, Voltage Input Modules, Relay Output Modules, and more. It is also worth noting that several specifications for a C Series system are determined by the modules and other specifications are determined by the backplane. Other specifications can even be based on the configuration of the system. The NI C Series is designed for the CompactDAQ and CompactRIO platforms.
The C Series National Instruments modules have varying channel counts, sample/update rates, and front connector types. Some of the modules are conformal coated and/or enclosed as well. This series delivers input and/or output capabilities for CompactDAQ or CompactRIO systems. These modules also tend to be affordable.
The C Series Serial Interface Modules add serial ports such as RS-232 or RS-485/RS-422 to CompactRIO systems, which enables users to communicate with serial instruments. The serial ports can be accessed from the field-programmable gate array to provide versatility to the user. These modules have separate buffers on each port that minimize FPGA space and make programming an easier process.
Another type of C Series module that makes up a large portion of the series is the C Series Digital Modules, such as the NI-9403. These modules can interact with several types of instruments, industrial switches, and transducers. These Digital Modules come equipped with an LED for each channel that shows the status of the channel. While utilizing the C Series Digital Modules with CompactRIO, the user can utilize LabVIEW FPGA to design customized high-speed counter/timers, pulse generation, digital communication protocols, etc. These modules are also ideal for many types of industrial and benchtop settings.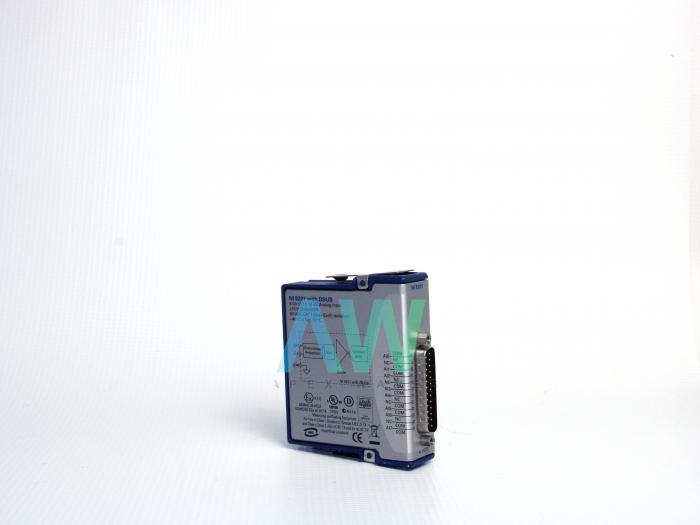 The C Series Voltage Input Modules, such as the NI-9205 and NI-9215, have the capability to measure input voltage signals for CompactDAQ or CompactRIO systems and have features like overcurrent protection for high-voltage applications and isolation. The channel count ranges from 3 to 32 single-ended or differential analog input channels and some modules have simultaneous sampling.
There are also the National Instruments C Series Temperature Input Modules, which take measurements from thermocouples and resistance temperature detectors. The C Series Temperature Input Modules have a maximum of 16 channels. These modules additionally have open-thermocouple detection, anti-aliasing filters, and cold-junction compensation. Several of the NI C Series Temperature Input Modules have noise immunity, isolation for safety, and high common-mode voltage range as well.