Academic study and research go hand in hand; it's an area that is continuously pushing the boundaries and experimenting. The speed of innovation and progress, particularly over the past 100 years, has been phenomenal and shows no signs of slowing down.
Giving students the ability to complete their studies while using up-to-date equipment is a challenge which requires educational institutions to invest continually in updating. Research attracts funding and this helps financially, but there is still a cost in time and effort.
Using modular systems such as National Instruments PXI systems provides a Commercial-off-the-Shelf (COTS) solution that is easily adaptable and offers simple upgrade options.
Take 5G NR as an example. The technology is introducing new bands, wider bandwidth, and a new beamforming technology that all require design and test facilities. This is a new and developing technology that requires testing facilities to be adaptable. When using a National Instruments PXI Chassis, changing modules is simple and allows additional or updated modules to be easily fitted. Combined with the National Instruments LabVIEW application software and drivers, PXI modules can easily be configured to generate complex testing schemes.
The PXIe-1066DC chassis achieves an excellent mean time to repair (MTTR) through built-in redundancy. The power supplies and front-accessible cooling fans can be hot-swapped if required, allowing uninterrupted operation. Eighteen PXI modules can be fitted to the PXIe-1066DC, providing ample space to create an automated test system that also features remote monitoring.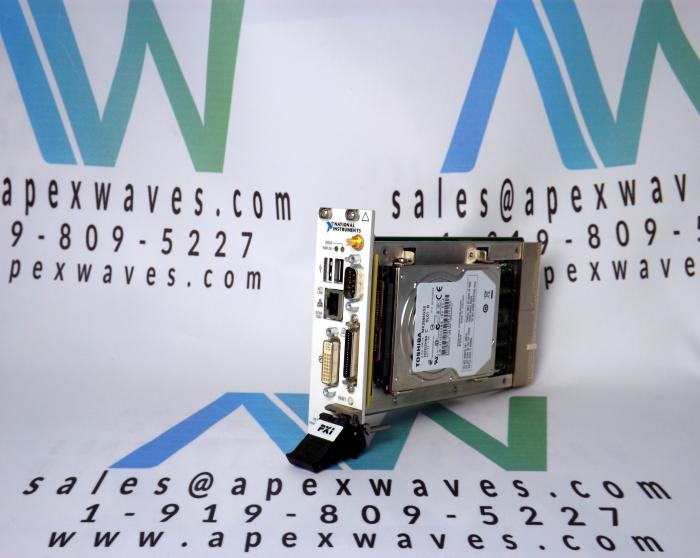 Flexibility is essential in research and the National Instruments PXI platform of modules and software provide the ability to design sophisticated, high-performance automated test and measurement systems.
If you need an embedded computer solution for your PXI system, then National Instruments PXI Controllers are available, providing a hard drive, RAM, CPU, and numerous I/O facilities. The PXI-8110 PXI Controller, for example, uses an Intel Core 2 Quad Core CPU, with 2 GB DDR2 RAM (4 GB max) and at least a 120 GB hard drive. Connections include a 10/100/100 Ethernet, serial port and 4 USB ports.
Research is useless without recording results and analyzing the data and the onboard storage of the PXI Controller may not be sufficient. To make data capture seamless, National Instruments produces PXI module-based data storage units, such as the NI PXIe-8267 Data Storage Module. This unit contains four 1TB Samsung Pro SSD drives, has a sustained data throughput of 5 GB/s, and is supported by Windows 7 SP1 upwards for easy configuration. This module requires a high-power cooling slot, so it is only suitable for certain chassis.
The lower specification NI-8260 PXI Data Storage Module may be more suitable for some users. It is now listed as obsolete stock by National Instruments, but Apex Waves specializes in the supply and repair of these types of units. The module offers four 2.5 inch SATA slots, allowing for a total storage capacity of 1TB. The drives can be configured as RAID-0 or JBOD depending on your requirements.