Apex Waves specializes in obsolete National Instruments products, which encompasses a variety of PCI, PXI, SCXI, CompactRIO, and CompactDAQ products. Obsolete products are not manufactured or offered by the manufacturer anymore. This also means support services are not offered. Obsolete NI products cannot be purchased, repaired, or calibrated by the manufacturer.
Before a product is in the obsolescence stage of the product life cycle, it will move from the "Active" to "Mature" status. Mature NI products are far in the life cycle and most likely close to the end of their manufacturing life. For mature parts, there is usually a newer part with enhanced features and capabilities. NI will typically say mature parts are not recommended for new designs. Mature parts still have repair and calibration capabilities from the manufacturer and can still be purchased new. Active and Mature phases can last 10 years or more overall.
The next phase of the product life cycle is the Maintenance stage. This is usually a one-year time period where users have their last chance to buy the product from the manufacturer. Repair and calibration may still be available for a short time after the maintenance period ends, depending on the product.
However, Apex Waves has a large inventory of obsolete National Instruments products, which means you can continue using your favorite legacy NI systems for years to come.
Obsolete NI products are in stock and available for purchase.
Apex Waves' inventory includes many types of difficult to find, obsolete National Instruments parts. We understand that many of our customers have a system they have been using for years and they do not want the cost, time, and effort associated with buying an entirely new system. Since obsolete NI parts usually cannot be found anywhere else, we help fill the void for NI obsolescence planning.
We offer the longest warranty in the industry.
The obsolete, refurbished NI products we sell include a 2 year warranty provided by Apex Waves, ensuring you have peace of mind when you make a purchase with us. Many similar re-sellers only offer a 30-90 day warranty. If the product fails, we will send a replacement board as quickly as possible or offer repair services if applicable.
Apex Waves provides fully tested, working products guaranteed.
Every part undergoes full testing by our in-house technician to verify performance prior to shipment. This testing is completed with the required NI software and confirms full functionality of the product.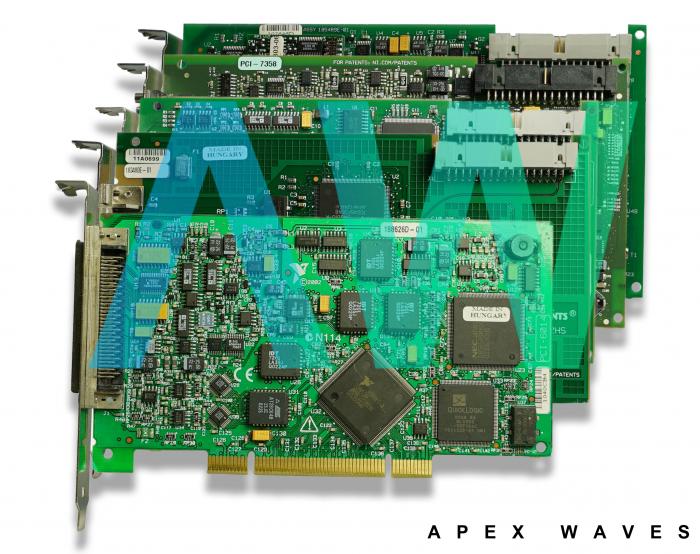 We can repair discontinued, obsolete, and legacy products.
If you have an NI board that needs to be repaired, we can help you out! Depending on the component availability, we can replace and fix any issues you are having and ensure you receive a working board. If repair services are not possible for the board, we may have a refurbished unit in stock for you to purchase instead.
Apex Waves offers same-day shipping for in stock parts.
When your system goes down and you urgently need to get up and running again, Apex Waves will be there to help you out. All you have to do is call 919-809-5227 or email sales@apexwaves.com with the required part numbers, credit card number, and shipping information. If we have the parts you need in stock on-site, we will ship overnight. We offer expedited shipping through FedEx and UPS. Be sure to mention the order is urgent and we will do everything we can to ensure your parts are received in time.
Quotes are received in less than 30 minutes.
When you request a quote with Apex Waves, we know you want pricing and availability as quickly as possible. This is why we try our best to ensure quotes are received in 30 minutes or less, guaranteeing to move along the purchasing process swiftly.
We provide high-quality refurbished, obsolete NI products.
Each NI product we sell is fully tested with NI software and will include a datasheet or manual, as well as NI certificates if they are available. After testing, refurbished products are cleaned and packaged in a static bag, then placed in a box with a label similar to the manufacturer's packaging. When you receive a refurbished, obsolete NI product from Apex Waves, you will only receive the best quality.