Industrial machinery often operates in harsh, challenging conditions making monitoring extremely important, but at the same time often difficult. Extreme temperatures, exposure to water ingress, or dusty conditions mean that system monitoring is essential to prevent costly downtime.
National Instruments recognizes the demanding situations industrial machinery operates in and has designed a range of test and measuring equipment to meet these challenges. Machinery failure can add hours or even days to your production time, increasing costs and tying up valuable resources. A proactive approach to monitoring and diagnosing faults before they develop is essential and National Instruments PXI modules offer a variety of such monitoring devices.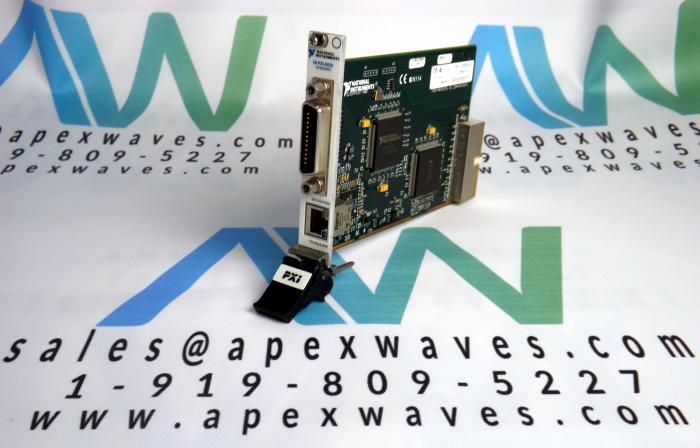 Along with PXI modules for vibration, temperature, and pressure monitoring, National Instruments software applications are available for recording and monitoring the received data. NI InsightCM can monitor and display multiple inputs and waveforms and integrate with other COTS software and hardware. NI LabVIEW (Laboratory Virtual Instrument Engineering Workbench) allows test engineers to program sensors and monitoring equipment using a visual language.
Modern machinery will often be supplied with built-in sensors, but the options to monitor the sensor output may be limited. If your company is already using National Instruments PXI platform for monitoring, the GPIB (General Purpose Interface Bus) Instrument Control Modules allows you to integrate non-PXI modules into a PXI system using the IEEE 488 standard, also commonly known as GPIB.
One of these modules is the PXI-8232 GPIB Instrument Control Module, which includes a Gigabit Ethernet interface with transfer rates up to 1,000 Mbit/s, using standard Cat 5 cables and Ethernet standards. The module can be used with the NI 488.2 driver to allow easy and reliable connection through the IEEE 488 connector to third-party instrumentation.
Within the PXI platform, the NI PXIe-4353 Temperature Input Module provides data acquisition for temperature measurements, along with signal conditioning if required. With 32 thermocouple channels and high accuracy on temperature measurements between 100 oC and 1400 oC, this module has a wide range of uses. The onboard delta-sigma ADC has a resolution of 24 bits and a maximum sampling rate of 90 S/s.
An alternative device is the NI PXIe-4357 Temperature Input Module which uses 20 resistance temperature detector (RTD) channels instead of the thermocouples used in the PXIe-4353. This module offers an accuracy of 0.09 oC with 24-bit delta-sigma ADCs and built-in NI-DAQmx driver software. LabVIEW application software allows visual test code generation and the Real-Time add-on module provides a real-time OS, automatic use of multicore processors, signal processing, signal analysis, and real-time application design functions.