Even the most well maintained systems will encounter issues every now and again. When the unexpected happens, the last thing you want is to jump through hoops to get a repair- which is why Apex Waves is making it even easier to request a return merchandise authorization form. In this post, we will go over how to utilize the new Apex Waves online request form and answer some common questions about the RMA process.
RMA Q&A
Q: How do I know if my product is still under warranty?
A: Apex Waves offers warranty on all of our products- the length of which depends upon the condition at purchase. The warranty period begins on acceptance of delivery for the part.
New items have a 3 year warranty, while Refurbished items have a 2 year warranty. Parts that are repaired by Apex Waves are returned to you with a 1 year warranty.
Q: What is not covered by the Apex Waves warranty?
A: Apex Waves warranties do not cover defects, service failures, or damages resulting from improper or inadequate maintenance / installation / repair. This includes any damages that are a result of calibrations performed by a third party who is not authorized by Apex Waves or by the customer themselves.
Additionally, our warranties do not cover damages incurred through the improper use / operation of the product that are outside the instructions stated in the product's User Manual. This includes unauthorized modifications as well as any damages from hardware / software / interfacing / supplies provided by the customer or a third party.
We are also not responsible under warranty for any loss or damage during transit, improper site preparation, accidents, or any abuse to / negligence of the product.
Q: Do I need to ship anything along with my part?
A: Yes! Please print out the RMA form that we send to you and include the physical copy in the package with your part.
Q: What is the turnaround time for repairs?
A: The average turnaround time for repairs and warranty claims is two weeks, but this may vary depending on factors such as the complexity of the repair, a replacement being necessary, etc. We are located in Cary, North Carolina, so shipping times may also vary.
Q: How much do repairs outside of warranty cost?
A: Pricing is determined on an individual basis. Once we receive more information about your specific issue, we will send you more details regarding pricing along with your RMA form.
Q: Do I need to pay for my own shipping?
A: Yes, customers are responsible for the shipping costs of returning warrantied material to Apex Waves.
Q: How do I request a RMA from Apex Waves?
A: We have recently updated our RMA request process! You can now fill out a convenient request form found on the "Support" page of our website. More details about that are listed below.
Navigating the New RMA Request Form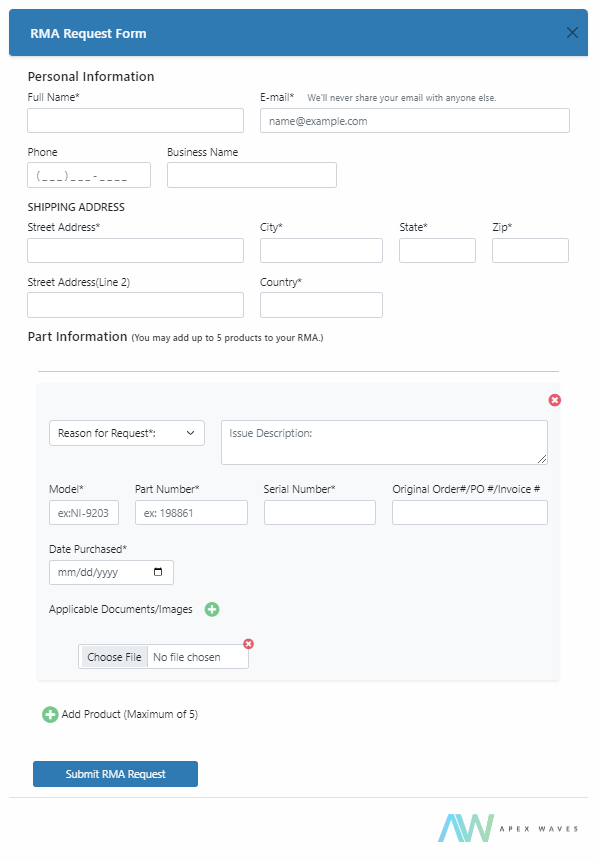 When it comes to repairs and warranty claims, it is very important that our professional technicians get as much information about the issue as possible to better serve the needs of our customers!
Our newly launched RMA request form seeks to take all the guesswork out of sending us your information. Your personal information will be kept confidential, and you are able to input the information of up to 5 different parts.
When filling out the "issue description" field, don't be afraid to be specific! Letting us know not only what problems you are having but information about how / in what context you are using the product is incredibly helpful for reproducing the problem and finding a solution. (Note: always be extremely careful when removing cards from chassis to avoid accidentally breaking off any small pieces of the card).
Another useful feature of our new request form is the ability to upload pictures of the specific issue (up to 5 pictures per part). You can take advantage of this to send pictures from multiple angles!
Once we receive all of the information from your RMA request, we will send you a RMA form to be printed out and included in the shipment back to us. We will keep you updated on the progress of your repair / replacement throughout the process before returning your part through one of our convenient shipping carriers.
If you still have any questions about this process, feel free to reach out to us at support@apexwaves.com.