The NI-VAS (Vision Acquisition Software) from National Instruments is designed to acquire, display, and save images from image acquisition devices. The software can also be used to configure and control National Instruments image devices with the supplied NI-IMAQ driver software.
The software requires a Windows SP1 or later operating system, along with at least 0.5 GB RAM along with around 10 GB of hard disk space. NI-VAS also supports Windows Server 2012 R2 and 2008 R2.
National Instruments Visual Acquisition Software V18.0 is designed to support your LabVIEW installation and can operate with multiple instances of LabVIEW. When applicable, National Instruments devices are supplied with the NI-VAS software and drivers.
The software also supports a range of imaging standards, such as Camera Link, GenICam, GigEVision, and USB3 Vision, allowing a wide variety of imaging equipment to be utilized.
Using the NI-VAS application enables you to save images from industry-standard camera interfaces, but also configure and control National Instruments I/O hardware sold by Apex Waves. With four digital I/O channels, the National instruments NI-1483 Camera Link Adapter Module also provides FPGA image processing. This is part of the National Instruments FlexRIO instrument's range, enabling users to customize their hardware without the expense of custom design.
Apex Waves sells a range of National Instruments products that can be programmed using the NI-VAS. For example, the National Instruments CVS-1459 is a camera system using the USB3 Vision standard. The two USB3 vision ports to allow the use of off the shelf cameras and a powerful 1.91 GHz Quad-Core Intel Atom Processor gives plenty of power.
The National Instruments PXIe-1435 Frame Grabber Module is perfect for use with the NI-Vision Acquisition Software. The module has a data throughput of 850 MB per second, supports Power over Camera Link (PoCL), and is ideal for many industrial uses, including scientific imaging. The module features two optically isolated channels, with an exceptional pulse rate up to 100 KHz.
For more user control, the National Instruments PCIe-1473R Frame Grabber Device is provided with the programmable Virtex-5 LX50 FPGA system. With device clocking of up to 85 MHz and a bandwidth of up to 850 MB/s, this device is suitable for systems that require a high-throughput of data.
The National Instruments R Series offers a range of Multifunction Reconfigurable I/O Devices that are suitable for use with the Vision Acquisition Software, including the NI PCI-8254R module. This Image Acquisition Board offers two TTL inputs and ten TTL outputs. The output signals can control camera exposure and reset functions, strobe lighting, and communication with PLC's. The input signals can be used as triggers and change detectors, among other uses. The NI PCI-8254R comes pre-configured but is completely user-configurable via the LabVIEW FPGA Module.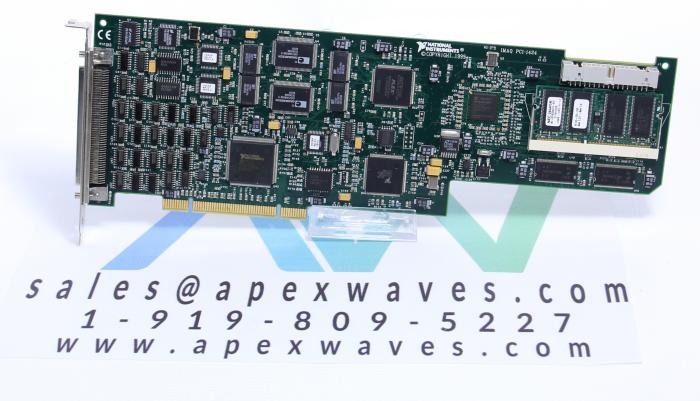 National Instruments is continuously advancing their range of image acquisition devices and categorizing some of the older units as obsolete or mature. Apex Waves specializes in supplying these mature imaging systems from National Instruments, which can be purchased via phone or email.
Sources:
http://download.ni.com/support/softlib//vision/Vision%20Acquisition%20Software/18.0/readme_VAS.html#configureNI-IMAQ
http://www.ni.com/download/ni-vision-acquisition-software-18.0/7552/en/
http://www.ni.com/pdf/manuals/371578d.pdf