The PXI and PXI Express chassis portfolio from National Instruments includes a wide range of size and performance options, as well as additional features to ease system interface and usage. The variety of options to fit specific needs is one of the reasons that the NI PXI and PXIe are industry leaders for automated testing and measurement. However, understanding the compatibility differences between the two can often lead to some confusion.
A Brief Overview
When it comes to test and measurement applications, PXI systems provide high-performance modular instruments and other I/O modules with unparalleled synchronization and essential software capabilities.
The PXI system is very similar to a computer in regards to its hardware components. In comparison to a desktop, the PXI chassis is similar to the overall enclosure. The PXI controller is comparable to the CPU or memory, and the PXI/PXIe peripheral modules are comparable to the PCI/PCIe version of the same.
Depending on the model, the PXIe chassis has a combination of four unique slot types: including PXI peripheral, PXIe Timing, PXIe peripheral, and PXIe Hybrid peripheral.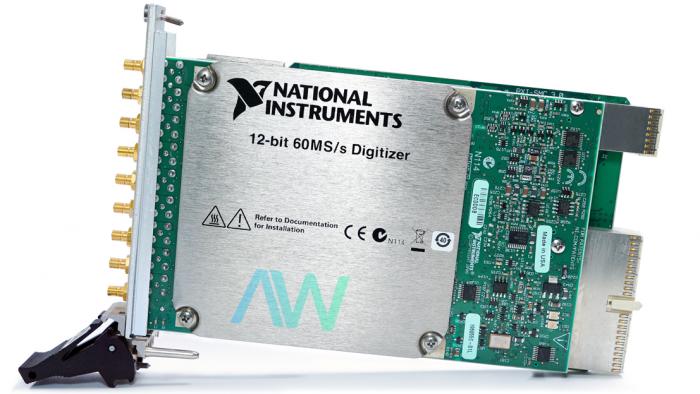 Which Cards Fit in the Chassis?
On certain PXI Chassis part numbers, there are small symbols located underneath each slot. These symbols are also found on PXI / PXIe cards in the upper right corner. This symbol indicates which PXI / PXIe slot the card may be inserted into. It is also important to note that the combination of these symbols (such as the solid circle inside the hollow square example at the bottom of the chart below) indicates that the slot is compatible with both of those card types.
| Symbol | Slot Description |
| --- | --- |
| Hollow Square | System Timing Slot |
| Hollow Diamond | Star Trigger Slot |
| Hollow Circle | PXI Peripheral Slot |
| Solid Circle | PXIe Peripheral Slot |
| Solid Circle With a Superscript "H" | Hybrid Peripheral Slot |
| Hollow Triangle | PXI System Controller Slot |
| Solid Triangle | PXIe System Controller Slot |
| Solid Circle Inside a Hollow Square | PXIe System Timing Slot / PXIe Peripheral Slot |
PXI Express slots can be used for both PXI cards and system timing cards. PXI Express System Timing cards, however, require a connector on the bottom of the card- which mean that only PXI Express cards can be used.
You can insert PXI cards in PXI peripheral slots and they will accept PXI cards with standard connection types. The hybrid or mixed backplane connections of a PXI Express Hybrid slot accepts both the PXI Express card and the 32-bit CompactPCI card.
Some PXI / PXIe Distinctions
A PXIe and PXI differ in their mechanic, backplane, and electronic connections. However, they have the same fundamental mechanical principles. Other distinctions include:
Timing: With an integrated timing and synchronization capability, a PXI system is great for when you need to address advanced timing and synchronization needs. The PXI chassis includes a dedicated local bus, trigger bus, and 10 MHZ input clock. On the other hand, a PXI Express chassis includes a 100 MHz differential system clock and differential signaling.
Cooling: Chassis from NI are developed and tested to meet or exceed the cooling needs of the most power-hungry PXI modules. According to the PXIe power specification, each peripheral slot must have a minimum of 30 W of power and be able to dissipate the equivalent amount of heat. The PXIe Chassis has an advanced cooling system, with the ability to deliver at least 38.25 W of power and cooling to each peripheral slot, with certain chassis able to provide 58 W or 82 W of cooling to a single slot.
Purchasing the Correct Parts
When you purchase a part with Apex Waves, we provide all available part manuals and documentation to view and download as PDFs. If you have any questions regarding a PXI / PXIe chassis, card, or compatibility between the two- we provide you with all of the resources and guidance you need to make an informed purchase.
Additional Information: