Many products in the National Instruments PCI platform, also known as "Peripheral Component Interconnect," are considered obsolete or mature because the newer, more advanced PCI Express platform has expanded upon PCI with upgraded features meant for newer computers. However, the NI PCI platform is suited for a variety of applications and industries, most notably for applications in the aerospace and defense industry. These applications include ATE systems and software, electromechanical systems test, embedded software test, communications, and navigation systems test, and radar, electronic warfare, and signals intelligence.
Although some PCI products have become obsolete and other PCI products are on their way to obsolescence, these parts may still be the answer to your test equipment needs. After all, advanced applications require reliable products. If you're looking for a more cost-effective alternative to the PCI Express platform, then PCI is a perfect choice. Not only will you save money by choosing older parts for your test system, but you will also not be able to purchase these parts from National Instruments.
Apex Waves stocks many types of obsolete National Instruments PCI products. All NI products have a 1-3 year warranty, ensuring that the module will remain functioning throughout the duration of the warranty or a replacement will be sent immediately. These parts also have free ground shipping and same-day shipping available for all parts in stock.
Two of the obsolete parts we sell are the PCI-1409 IMAQ Device and the PCI-1405 Image Acquisition Board. Both Frame Grabbers can work with a variety of camera types, including analog line scan cameras, standard monochrome cameras, and more.
Another obsolete PCI part we frequently stock is the PCI-6533 Digital I/O Device, which was previously called the PCI-DIO-32HS. This jumperless, switchless device can be inserted in a 5 V PCI expansion slot in your computer.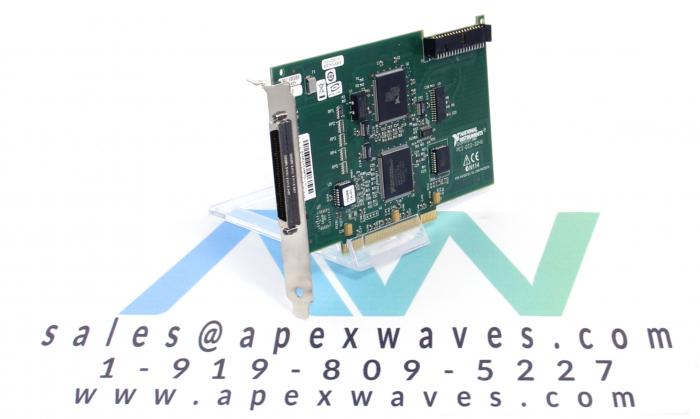 The obsolete National Instruments Motion Controller Devices, such as the PCI-7358, are also in high demand right now. This device and others in the PCI-7350 Series can be used for advanced and simple motion applications. This series of obsolete Motion Controller Devices have 2-8 axes and can be programmed and configured with NI‑Motion driver software.
Other popular obsolete PCI parts we stock include the PCI-1424, the PCI-6025E, PCI-6052E, and other E Series Multifunction DAQ, the PCI-6527, and the PCI-DIO-96. For more information about these obsolete products or if you would like to inquire about a part number not listed, visit our website.
Even the obsolete NI PCI products can be used for testing embedded systems or monitoring wireless environments for interference signals. Because the National Instruments PCI platform is versatile and modular, it can easily be adapted for many types of test systems.
If you currently have a test system built with National Instruments PCI modules and are concerned about a specific part failing or the system going down, don't hesitate to call 919-809-5227 or email sales@apexwaves.com to buy spare PCI parts! Since system uptime is especially important in industries like aerospace and defense, contact us before your system fails so you can prevent system downtime, maintenance, and repairs.