Looking to get rid of your used, new, or secondhand test equipment? Sell your surplus to Apex Waves! We accept modules across every NI series as well as from additional manufacturers, working to give you the best offer for your individual goals with multiple selling options. Keep reading to learn more about how to quickly and conveniently sell your surplus to Apex Waves!
Why Sell Your Surplus Test Equipment?
There are a variety of reasons why you may end up dealing with test equipment you no longer need. If your team is undergoing a complete system refresh, your legacy system will be replaced with the most recent models- leaving you with hardware that is likely incompatible with the newly updated software. Maybe you have been using equipment for a specialized project, and once the project is concluded, you are left with equipment that is incompatible with other test systems.
Selling this surplus allows you to declutter your space for cash! As a value-added reseller, Apex Waves gives your unneeded surplus new life. Your unwanted equipment could be the vital part needed by another team, one without the resources for a complete system refresh, to keep their equipment up and running in perpetuity. 
Navigating the Sell Your Surplus Form
Sending us the parts you want to sell has never been easier! With our convenient submission form, all you have to do is send us your contact information as well as a list of parts. You will first be asked to enter your name or the name of the company you represent, as well as an email address and phone number so that we can contact you.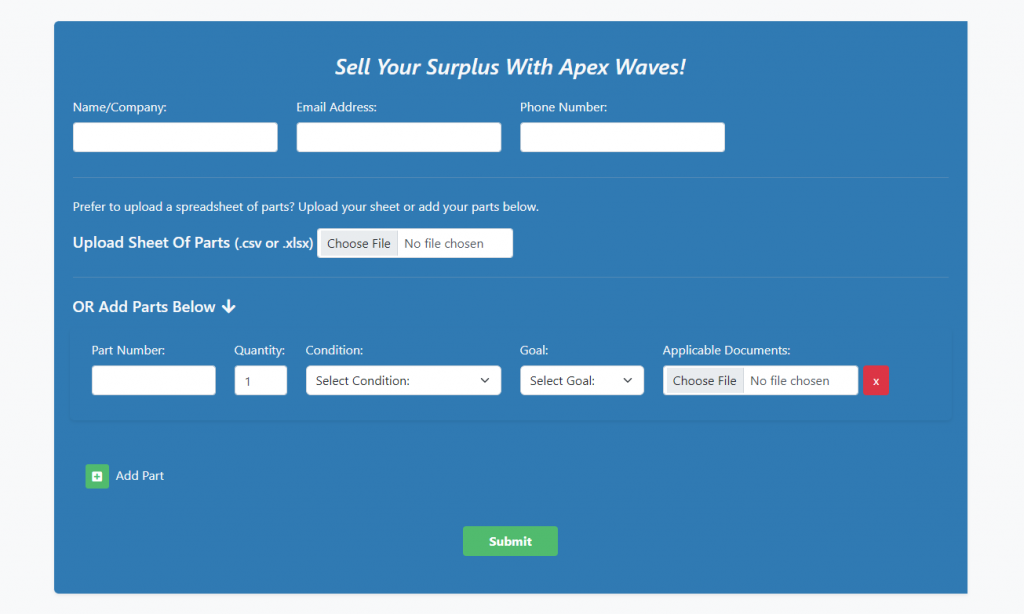 If you do not want to add each part individually, you can upload an entire list (either a .csv or .xls file) with the click of a button.
When adding parts individually, you can easily specify the condition and goal for each part. Apex Waves uses the term "part number" synonymous with the term "model number" for NI modules, so either is appropriate for this text field. Need help? Read our previous blog post about where to find the numbers on your NI hardware. 
We accept equipment in any condition! The "condition" field helps us work out the best solution to fit your individual needs. Depending on the goal, we offer cash or trade-in deals. Even if you have a defective unit, we offer core exchanges!
The "applicable documents" field provides you with a place to upload either a picture of the unit or relevant documentation if desired.
Once you have completed the form, click the green "submit" button to send it directly to our sales team. We will look over your submission and get in touch with you within 24 hours with an offer!
After The Offer: Next Steps
We will cover all the costs of shipping! After our offer has been accepted, we will send you all of the materials and labels you need to securely package your parts and send them to our warehouse. In certain cases, we are even able to travel to your specific location to personally handle the hauling of your unwanted equipment- all at no additional cost!
Every unit received by Apex Waves is securely reset to its original factory settings, protecting your sensitive data and preparing the hardware for re-use and repair. Our commitment to securely processing incoming surplus also makes us a top choice for government entities looking to scrap their unnecessary hardware.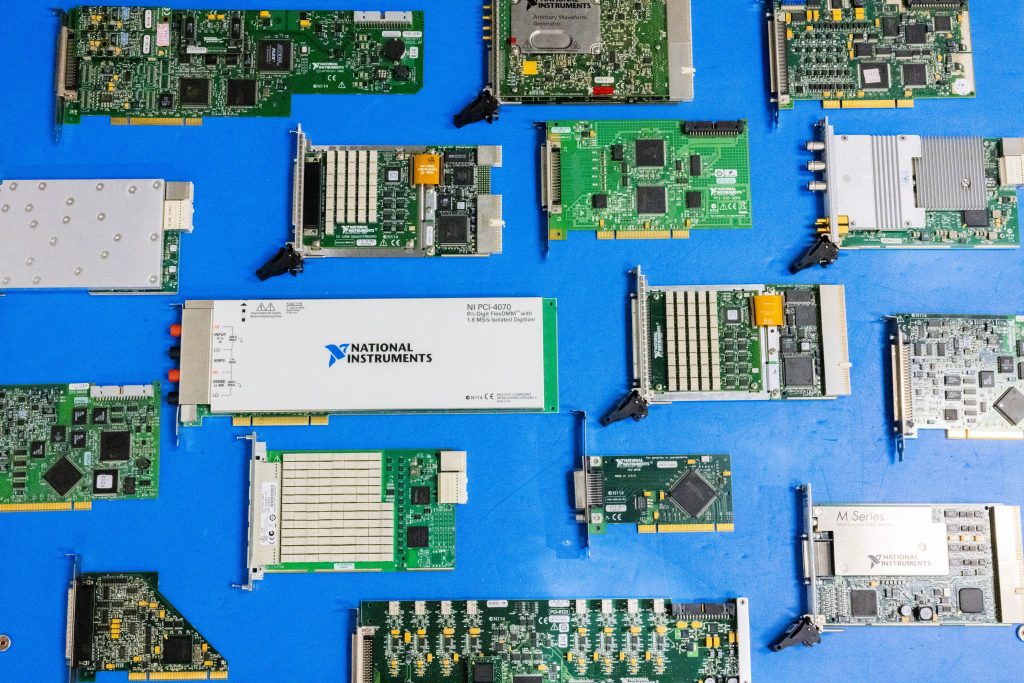 Apex Waves Buys All Kinds of Test Equipment!
Do we accept the NI equipment you want to sell? Yes! We accept all modules and accessories from any and all NI series. We want to buy your new or used PXI, PXIe, PCI, PCIe, cRIO, cDAQ Module, oscilloscope, signal analyzer, spectrum analyzer, network analyzer, counter, power supply, DC electronic load, AC power source, signal generator, VXI, VME, and more.
While Apex Waves specializes in buying and selling National Instruments hardware, we gladly purchase test equipment from a wide variety of manufacturers; including but not limited to Ametek, Ballard Technology, Keysight, Marvin Test Solutions, Teradyne, ADLINK, and Spirent. If you have any questions about selling surplus test equipment from a specific manufacturer, reach out to us at sales@apexwaves.com!