If you currently have a test system with PXI products manufactured by National Instruments, then you should buy spares today.
As PXIe consistently expands on the technology of PXI, more PXI parts will stop being manufactured. In fact, many National Instruments PXI parts have recently been classified as obsolete. Once a product is obsolete, it is not available for purchase or repair through the manufacturer. However, Apex Waves stocks a wide variety of obsolete, discontinued, and mature PXI modules, chassis, controllers, and more. We also offer repair services for these obsolete or mature parts, so you can ensure your PXI products will remain in service for years to come.
There are several types of PXI products which remain vastly popular, despite their life cycle status. This includes the PXI-1050 Chassis which recently went obsolete. This 12-slot chassis is great for PXI measurement systems where further signal conditioning is necessary or for applications with minimal rack-mount space. Another obsolete part is the PXI-6025E Multifunction I/O Module. This E Series module can be configured with the NI-DAQmx driver. The NI PXI-6025E can be used with SCXI or SCC signal conditioning modules. The PXI-6527 Digital I/O Module is also obsolete. One of the best features of this module are the isolated channel-to-channel outputs and inputs which help decrease noise, break ground loops, and keep your system protected.
Other obsolete PXI modules we stock include the PXI-6533 Digital I/O Module, the PXI-7833R Multifunction Reconfigurable I/O Module, and the PXI-8176 Embedded Controller. These obsolete PXI products will be harder to find in the coming year, so if you are currently browsing or wondering if you should purchase them, make sure to call 919-809-5227 or email sales@apexwaves.com soon!
Additionally, the PXI-2503 is a Multiplexer Switch Module, which is ideal for several types of applications because it can be configured as a matrix switch or a multiplexer. This can be accomplished with the use of various terminal blocks.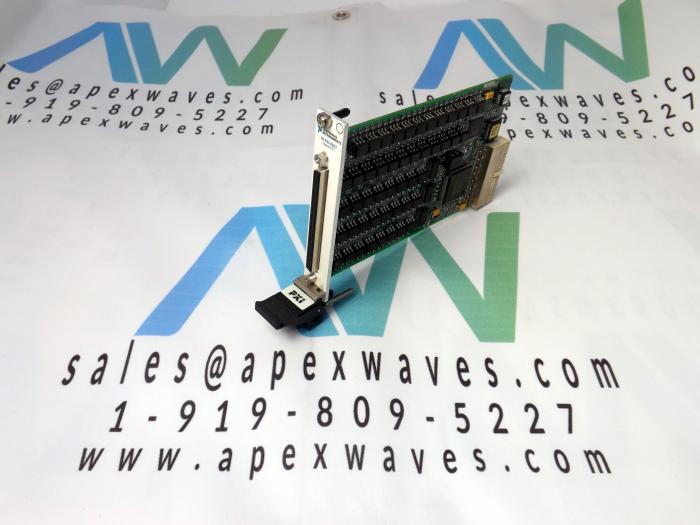 One of the required factors you should keep in mind when building a PXI system is to choose parts that will either meet or surpass the temperature requirements for your application. PXI systems are designed for demanding industrial environments, which is why they are suited for so many types of applications. It is also required to insert filler panels in all unfilled slots of a chassis to help with cooling and prevent the chassis from overheating. In addition, if shock and/or high vibration is possible, you should utilize solid-state hard drives when assembling a PXI system. These factors will help ensure your system remains functioning.
National Instruments highly recommends planning in advance for spares and we agree! This is especially recommended if you cannot have downtime for maintenance/repairs. Imagine if something malfunctions with your system or a part fails, and you do not have any spares readily available. It may even be worth it to have an additional identical system. The second system can be set up to start functioning if the first system fails. Another option is to stock spares of parts that are more likely to fail, such as power supply shuttles for chassis.
However, if you do not have PXI spares on hand and your system fails, we will ensure your system gets up and running again as quickly as possible. Apex Waves offers same-day shipping for many parts and we can often overnight your required parts to minimize your system downtime.
Sources: